The Camp – Intense Basketball Training Made Fun!
You'll learn all the tricks and moves you've seen in the college hoops and made by the NBA professional players. You'll be the star player on the team, dribbling and ball-handling past defenders through the key for a sweet layup and the victory! First, you'll come to Advantage Basketball Camps and learn the basic fundamentals and develop "muscle memory" so well you could fly past that defender in your sleep.
Is This Camp For You Or Your Child?
If you're between the ages of 7 and 18, you love basketball, want to learn the game or improve your technique, are willing to work hard, and you want to make friends and have fun in the process, Advantage Basketball Camps is for you. Parents, if your child is athletically inclined, or needs help in getting in better physical shape, is bound for high school or college basketball, or simply needs to learn the value of self-discipline, practice, and enhanced self-confidence, then register them today to attend the next Advantage Basketball Camps session.
The Main Focus Of Our Basketball Training Camps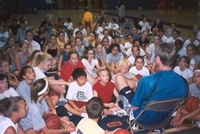 Our basketball camps have a unique focus of teaching one-handed basketball handling skills through intensive one-handed ball control drills. Students then build on their superior ball-handling skills by learning lighting-quick, one-handed moves off the dribble. Our methods and our reputation clearly sets Advantage Basketball Camps at the top of the list. Advantage Basketball Camps are consistently rated as one of the top basketball ball-handling camps in the nation.
Intensive Sports Training For Results, Not A Daycare
At Advantage Basketball Camps we follow an intensive regimen of repetition and practice. Students will do 3,000 to 5,000 reps per day of several skill-developmental drills. They will then learn and focus on why, when, and how to use these newly developed skills.
Since 1987, Advantage Basketball Camps has "graduated" thousands of kids who go on to achieve better results in their high school and college basketball careers. Our students learn the fundamental skills that are the essential building blocks for higher-level play in today's fast-paced style of game. We guarantee Advantage Basketball Camps will dramatically enhance your ball handling skills.
Some of our students come to 2 or 3 camps during the course of a summer. Take a look at our schedule to see which camps you can attend. Be sure to register now while there is still space available!