Guest Speakers Motivate Young Players at
Advantage Basketball Camps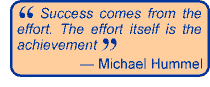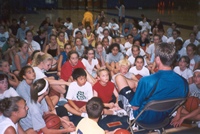 Michael Hummel motivates
the kids with an important lesson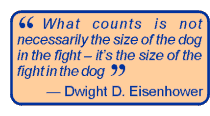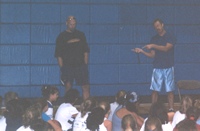 Former Seattle Mariners star
Jay Buhner talks with the kids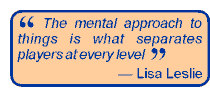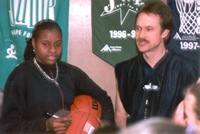 Jamie Redd of the WNBA's
Seattle Storm signing autographs
Advantage Basketball Camps builds champions. Motivational messages are a valuable tool which, when properly used, will play a vital role in a player's overall development and success. At Advantage Basketball Camps we place great emphasis on the mental approach to the game – and to life.
Continuous Positive Messages
Advantage Basketball Camps will give our campers a continuous barrage of positive mental messages throughout the day. Each day after lunch, we sit the kids down to rest their bodies and feed their minds. During this 15-30 minute rest time, the kids will hear a motivational speaker, provided by Advantage Basketball Camps at no additional charge.
Your Children Taught By Basketball Professionals
Over the years, we have been blessed to hear many great speakers from professional and collegiate athletes to local celebrities. In addition to our list of more famous speakers, our camp leaders also share their own life stories. They are great living examples and deliver positive messages to our campers. All the speakers and their motivational messages have dramatically impacted our campers' lives.
We have received hundreds of testimonials from campers and parents telling us how these speakers and their messages have changed their lives. Because of these letters, we make these talks and messages an integral part of our camps' approach to our students' overall success. To get these kids to work for us as hard as they do, we have to get them motivated and keep them motivated.
Enthusiasm As Key
Every child has an incredible God-given gift inside them to give to themselves and the world. To use this gift with enthusiasm is the greatest gift of all. (The word "enthusiasm" derives from two Greek words, "en" and "theos", which mean "in God" or "God within".)
Motivating these kids to try, to strive valiantly, to come up short again and again, with enthusiastic effort, will guarantee their success in life. We cannot eliminate failure. We strive to eliminate the fear of failure. That is our goal. Every day, hundreds of young gifted players stop trying for want of praise and encouragement. Our job as coaches and counselors is to teach your kids great fundamental skills. Our mission and passion at Advantage Basketball Camps is to motivate our children.
Learn more about Advantage Basketball Camps. Learn about our team of counselors and our founder, Michael Hummel. Register for a camp today - space is limited!