Your kids will grow and learn about more than basketball at an Advantage Basketball Camps' session. While they practice ball-handling, dribbling, and shooting, they will also learn about self-esteem, teamwork, and the value of hard work.

Basketball Camps
About Our Camps
Industry-Leading Basketball Training Techniques
Your child will learn using the most advanced sports coaching and training methods in use today. Our techniques have been developed over 20 years to motivate kids to learn through repetition, with fun.
Variety of Basketball Camps At Locations Nationwide
The summer 2023 camps will consist of 1-5 day sessions for boys and girls of all skill levels, from 6 to 18 years of age. Locations include Arizona, California, Colorado, Florida, Georgia, Idaho, Illinois, Indiana, Iowa, Kansas, Kentucky, Louisiana, Missouri, Montana, Nevada, New Mexico, New York, North Carolina, Oklahoma, Oregon, South Carolina, Tennessee, Texas, Utah, Washington, and more.
Youth Sports Camps With A Positive Difference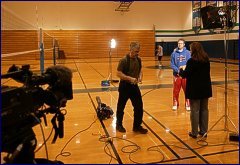 Advantage Basketball Camps founder,
Michael Hummel, interviewed on TV
for Tom Brokaw of NBC News
You will see your children gain an improved positive attitude, greater appreciation for good moral values, and a better understanding of the keys that will lead to their own success. The sport is basketball, but the most important element is the children's future development.
Advantage Basketball Camps
has been chosen as the official
basketball camp for the MSMN
Elite Basketball Tounaments
National Class, NCAA Certified