Goals for Advantage Basketball Camps
The Primary Goal Is Teaching Kids About More Than Just Basketball
Your children learn from everything that enters their lives: you, friends, teachers, TV, and more. Advantage Basketball Camps is a positive influence on our students' young lives. Many students and parents tell us that they had an experience to be remembered for the rest of their lives.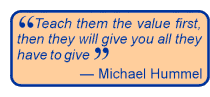 We believe that what sets Advantage Basketball Camps apart from other camps is our focus on our goals. Other camps may do a good job of serving as a daycare facility. Advantage Basketball Camps knows that what is important is more than just occupying kids' attention or giving them a place to expend energy. Advantage Basketball Camps also know that what is important is more than just learning about the game of basketball. What is important is the development of your child.
At Advantage Basketball Camps, our goals are primarily divided into three areas: physical, emotional, and mental. Your children will experience growth in all areas to the extent that you support their development and encourage them to make the effort necessary to learn and grow.
Physical Goals
The obvious goals of a children's sports camp is to improve their performance in that sport. Your child will understand more about the benefits of physical training and exercise. They will receive information about how nutrition, sleep, and lifestyle choices effect their physical abilities. They will also learn from experience about the challenge of hard work.
The kids who attend Advantage Basketball Camps strengthen their fundamental ball control skills. They gain a better understanding of the game of basketball: from ball-handling to team play strategies. They develop their athletic abilities to gain an advantage when playing basketball at the high school or college level. Our goal for our graduates is for them to use the abilities they develop at Advantage Basketball Camps to take them farther in their athletic careers.
Emotional Goals
All children at some point face struggles at home, at school, with friends, and especially when learning athletic skills. The goal of Advantage Basketball Camps is to teach young players to focus on the task at hand.
Often, children (and adults) are overly concerned with how they look and how they are percieved by their peers. This emotional need for acceptance is addressed in camp. We redirect their attention on developing and getting results, instead of bowing to peer pressure or other such fears.
Our goal for all our Advantage Basketball Camps' students is that they grow in their confidence and self-esteem.
Mental Goals
The students who attend Advantage Basketball Camps will attest to the amount of hard physical work involved. At the same time, they begin to understand more about the mental toughness required to make it through the physically demanding practice sessions. Importantly, the kids will get a clear sense of why they are doing what they are doing in camp. They will begin to get a sense of purpose and a vision for where their skills can take them.
We also spend time talking with kids about making good choices and living clean moral lives. The choices they make are all part of their mental conditioning.
Through encouragement, the children experience – not just hear – that they can be successful. This experience directly effects their beliefs and attitudes about their abilities. Our goal for the children who attend Advantage Basketball Camps is that they percieve the importance of positive attitude and how that will effect their ultimate success in life.
How We Accomplish Our Primary Goals
Advantage Basketball Camps has many coaching and counseling techniques that we effectively and successfully employ to help accomplish our training goals. In general, they fall into these main methods:
Experience – As an old proverb teaches: "What I hear, I forget. What I see, I remember. But what I do, I learn." Learning must be experiential, especially in sports.
Instruction – Learning to play basketball, or any sport, requires the guidance of an experience coach who can communicate with the players to help them develop their skills.
Repetition – While practice never leads to perfection, it does lead to improvement.
Example – Watching our advanced students and learning from the examples of our Top Counselors helps students understand what the end result of their hard work should look like.
Teaching others – When students master a move or technique, they will be allowed to teach other students. By teaching others, the student teacher enhances their own learning experience.
Contact us with your questions. Register today – space is limited!