Sign Up for Advantage Basketball Team Tryouts!
Welcome to Advantage team tryouts. The mission at Advantage Basketball Camps is to create a place where players have a positive atmosphere; where young athletes who want to be better basketball players have the opportunity to get better. Advantage is the vehicle that provides that opportunity for players to take their game to the next level. We exist to make a positive difference in the lives of our players. Our goal is to develop happy, healthy, and confident players. We strive to provide a safe, fun, and successful experience for every player.
Parents: You must complete the paperwork below (click here). Scroll down to view the flyers.
Tryouts are free and players only need to make one of the tryouts. Our Advantage Basketball training academy where we hold our tryouts is located at 14445, NE Juanita drive Kenmore, WA (located in St Edwards state park-next to Bastyr University). During tryouts our coaching staff will evaluate players' skills and ability in game settings and competitions. We have multiple teams at each grade level. Each team is a different skill level. We will place your player on the team that we think will be best for their current skill level. Our professional training staff will work with them and when they are ready we will move them to one of the higher skilled teams. You should receive a call from the director or coach after the tryouts by the following week about what team you made. If you do not receive a phone call by then, feel free to call or contact us by e-mail.
Typical Seasons and Team Tryout Dates
| | |
| --- | --- |
| Season | Tryouts |
| Fall (September - November) | August-September |
| Fall/Winter (September - March) | November |
| Spring (March - July) | February-March |
Individual tryouts are available upon request by contacting us:
Team Fees: $110.00 per month team coaching fee payable directly to your coach as he or she directs (advantage basketball is not involved in this transaction between you and your coach)
Mandatory monthly training: $140/month for unlimited sessions Mon – Thur 5:00 pm to 7:00 pm per month payable to Advantage basketball by registering through the Advantage basketball website
A few spots are currently available on existing teams! Call now – 425-670-8877 – for more information.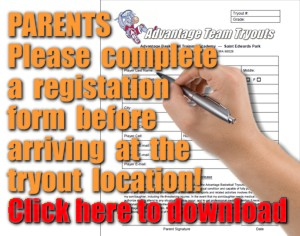 Informational Flyers
Click an image to download the PDF informational flyer: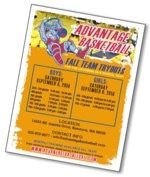 Tryouts - Fall 2017
Season Length and Commitment
These seasons may be shorter or longer depending on the team. Our team program is geared to develop our players through experienced coaching and competitive game experiences. Typically your team will play 15-20 games in the 3 months. We participate in AAU sanctioned events mostly but may use other venues as well that may be a better fit for your team. Each team schedule will vary some, so we can't give you exact dates and events at this time. You will receive your teams' game schedule when you receive your welcome e-mail.
Many players also participate in different sports, which is fine with us as long as you can make more than half of the team's practices and games. We have flexible training hours throughout the week, so it will be easy to find days and times that don't conflict with your other teams and activities. We try to work with feeder programs as much as possible and allow the players to do both and allow the kids to have balanced lives outside of sports with school, work, family, faith, and other interests.
Practice
Our teams typically will practice twice per week, and also group training once to 3 times per week as you choice. In addition to their team practices and team training, we offer training classes throughout the week. You sign up for sessions on a month-to-month basis. Through team practices, competitive games, and position player training, our players really improve their individual skills and basketball IQ. You don't have to be on a team to train, but if you are playing for a team, you must train in our program.
You don't have to be on a team to train, but if you are playing for a team, you must train in our program.
We will be holding group tryouts Fall (September - November) in September, Fall/Winter (September - March) in September and December and Spring (March - July) in October and February. We will hold individual tryouts all year long. To schedule a individual tryout contact our office via email info@advantagebasketball.com or call 425-814-2255 . By playing for us during the remaining part of the Fall/Winter, it will give you a foot in the door for those teams. Thank you for taking the time to read this information. Feel free to contact us if you have any further questions.
Cost
The cost to play on our teams is $250.00 per month plus league or tournament fees payable as follows You must register for the unlimited $140.00 per month training the runs Monday to Thursday 5:00 pm to 7:00 pm during your season by registering through this website. Then pay $110.00 per month directly to your coach. Your league or tournament fees will be divided between the parents on your team and paid to your coach or team parent. Your coaching fees will be handled between you and your coach and Advantage basketball is not responsible for or involved in those transactions To play on one of our teams there is a requirement to register for unlimited weekly training for $140 per month. You can register for training and not play on one of our teams if you want, but if you play on a team you must register for training. Even if you do not train you must pay your monthly $140.00 training fee to be on one of our teams. Our professional trainers produce skilled ballplayers so we hope you come to training.
Individual, private training is also available. Please contact us at info@advantagebasketball.com or 425-670-8877 for details.